Ms. Brigetta Guelker
Preschool Director and Teacher
Brigetta Guelker began her path to Reformation by first going on a completely different path. She first attended chef's school up in Washington State to be an Executive Chef. Upon completion she went to college in New Ulm, MN to complete a bachelors degree in Early Childhood Education. After graduation in 1999 she was assigned to Albuquerque, NM and then took a call to Fallbrook, CA. Now, Brigetta is part of the Reformation family serving as the director of the Preschool and Childcare, as well as Transitional Kindergarten teacher. Brigetta enjoys playing sports, cooking, and anything to do with the ocean.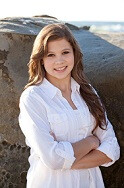 Mrs. Brennan Buth
Assistant Preschool Director and Teacher
Brennan grew up in San Diego, California, and attended Reformation as a child. She has been volunteering and working in the preschool classrooms for the past seven years. She graduated in 2016 from California State University, Sacramento with a degree in Child Development. While attending college she was also a Division 1 gymnast, where she helped her team win two conference championships. Along with her passion for teaching she loves coaching gymnastics, exploring San Diego, and is a huge Disney fan. Now Brennan is part of the Reformation family teaching preschool.
Preschool Assistants/ Shepherd's Care